News & Events
Meetings in the field of microcirculation and vascular biology & medicine
Please notify us about any events which you would like to appear on this webpage! Also National Society Meetings can be included! contact the Communication Officer, This email address is being protected from spambots. You need JavaScript enabled to view it.
Swiss Cardiovascular Biology Intersection On-line Meeting 2021
Dear colleagues,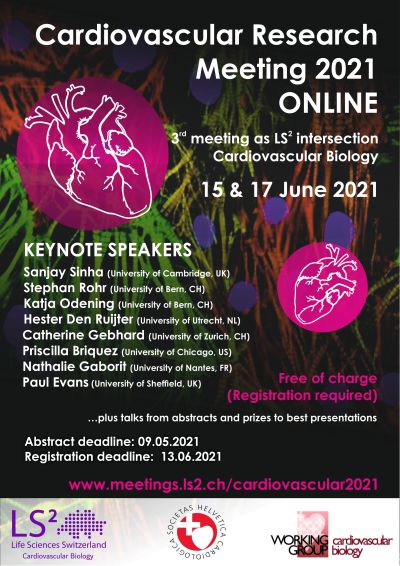 I am glad to announced the upcoming Cardiovascular Research Meeting 2021 organized by the Intersection Cardiovascular Biology of Life Sciences Switzerland (LS2).
Main facts:
The meeting will take place ONLINE on 15 and 17 June
Registration is FREE but required here
Deadline for abstract submission: 9 May 2021
General registration deadline: 13 June 2021
Program:
The meeting will take place in two afternoons.
We have an outstanding list of invited speakers divided into four sessions: Organoïds/iPCS; Cardiac Physiology; Gender Difference; Vascular Signaling/Repair/Tissue Engineering
The program will include 16 short talks selected from abstracts.
We have prizes for the best and second-best presentation.
See the full program and details on the meeting website. (Program in PDF)
We are looking forward to seeing you online.
Best regards,
Elena Osto (Vice President)
Andrea Banfi (President)
Intersection Cardiovascular Biology of Life Sciences Switzerland (LS2)
Postdoctoral position
We are hiring!
A post-Doctoral position is available in the group of Prof. Elena OSTO's cardio-metabolic research at the University of Zurich.
Contact Name for applications: Elena Osto
Email:This email address is being protected from spambots. You need JavaScript enabled to view it.
Phone: +41432533098
Country: Switzerland
City: Zurich
Institution: Cardiology & institute for clinical Chemistry
Title of Position: Post-Doctoral position
Summary of Position: Crosstalk between endothelial cells and adipocytes in cardio-metabolic diseases
Application Closing Date: 15 May 2021

Full Details can be read in this document.

ESM Newsletter 1/2021
Dear members of the European Society for Microcirculation, dear colleagues,
Please find attached the newsletter 1-2021 to highlight ongoing and future activities of the ESM and its national societies.
We are glad to welcome new members of our ESM Strategy Committee in our team and would like to include in the next issues of our newsletter also the presentation of new members, featured labs, recent articles etc. If you would like to contribute to these new features, do not hesitate to contact us. The e-mails are on our website: www.esmicro.eu.
In addition, we would be grateful, if you could support us to establish a presence of the ESM on selected social media platforms. We suggest initially Twitter and Linkedin as platforms for our society. In this context, we would like to appoint young/young at heart Social Media Experts/Ambassadors who wish to post news from our society on a regular manner.
We would be glad, if you could send us your feedback, whether you or your young colleagues would be willing to participate and how do you would envision the presence of our society on online/social media platforms in the future.

We are looking forward to your response.
Best regards, also from the whole ESM team, and wishing you all a very Happy Easter,

Content
ESM 2021 Online Meeting, 27th May 2021


EVBO/ESM Summer School, 13-15 July 2021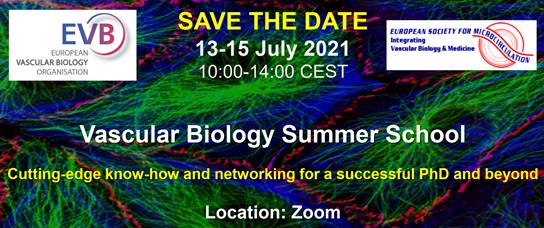 71st Annual British Microcirculation and Vascular Biology Society Conference, 15th and 16th April 2021

First Announcement for the Joint Dutch German Vascular Biology Meeting, 3-5 November 2021


Journal of Vascular Research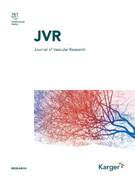 3rd Joint German Society for Microcirculation and Vascular Biology, and the Netherlands Vascular Biology Organisation (DEBS/MiVaB) meeting
3-5 November 2021, Göttingen, Germany
The third joint meeting of the Dutch and German Vascular Biology societies will bring together investigators from all fields of vascular biology for the exchange of new concepts and discussions of outstanding questions in the field. Presentations of the latest discoveries will be provided by internationally recognised scientists and emerging young stars.
The program consists of plenary sessions and poster sessions. Topics addressed include coronary angiogenesis, angiocrine signalling, lymphatics, mechano-sensing, neuro-vascular interactions, revascularization strategies, vascular adaptations in hypoxia & metabolic stress. We furthermore have dedicated sessions addressing novel developments in the field of systems biology - single cell sequencing, iPS technologies and cardiovascular organoids, and high-end imaging modalities for studying cellular behaviours.
At present 25 speakers confirmed their contribution, including the Nobel laureate Stephan Hell (see the attached flyer). Additional slots for oral presentations will be allocated based on selections from the submitted abstracts. Several travel grants, including the Aletta Jacobs award, and supported by the European Vascular Biology Organisation (EVBO) will be made available to junior researchers submitting their abstract to the meeting. https://gfmvb.com or https://debsociety.nl
ESM 2021 On-line Meeting 27th May
This one-day on-line meeting replaces the ESM2021 Aarhus, Denmark 4 day meeting (postponed until April 2023) due to the global coronavirus pandemic. The ESM Executive Committee and the Aarhus meeting organizing team acknowledged the importance of maintaining the visibility of the society and to encourage interactions with our European colleagues, resulting in the organization of this virtual event. The meeting will consist of two plenary speakers and 12 short oral presentations selected from the submitted abstracts, with a focus on presentations from our Early Career Researchers if possible. We have also included time for breakout discussion sessions both with a thematic focus (if possible) and for social interaction.
Date and Time: Thursday 27th May 2021; 9.15am-5.00pm CEST / 8.15am - 4.00pm BST
Abstract Deadline is 15th March 5pm CET (abstract instructions)
Registration is FREE
Download the Announcement and the Flyer
For more information please check the meeting website.

PhD position(s)
The dept. of Internal Medicine of Maastricht University Medical Center is looking for a PhD-student within an Innovative Training Network (ITN) funded by the European Commission. This network is named MINDSHIFT (Mechanistic Integration of vascular aND endocrine pathways for Subtyping Hypertension: an Innovative network approach for Future generation research Training).
In the project Metabolic drivers of hypertension: focus on the microcirculation, the candidate will identify circulating metabolic drivers of obesity-associated microcirculatory dysfunction and hypertension. A comprehensive analysis of detailed metabolic information will be instrumental in the metabolic and endocrine subtyping of overweight/obese, hypertensive patients. The candidate will use data of The Maastricht Study, a deep-phenotyped, population-based cohort that is enriched for individuals with type 2 diabetes.
This project is supervised by Prof. C.Stehouwer, Dr. A.Houben, Dr. M.van Greevenbroek. For more information click here, or mail to This email address is being protected from spambots. You need JavaScript enabled to view it.
In MINDSHIFT a total of 15 projects have been defined. Please click here for all projects.