Welcome
The European Society for Microcirculation was formed over 50 years ago and now has approximately 600 members (including members of national societies).
Its aim is
to advance integrative understanding of physiology and pathophysiology of terminal vascular beds
to support classical microcirculation as well as vascular biology
to use basic as well as clinical studies
Its biannual conferences are attended by about 700 scientists from all over the world.
Abstract submission is now open - ESM-EVBO 2019
•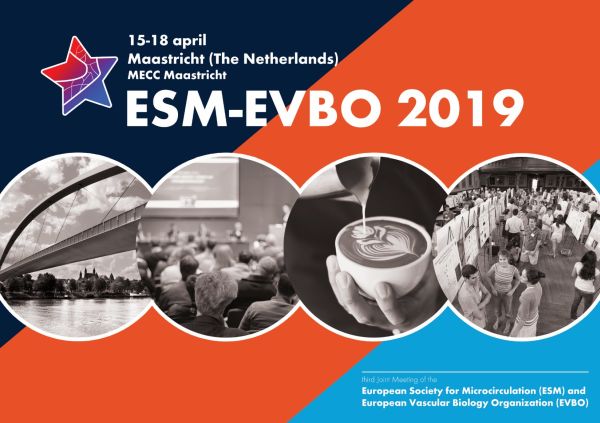 Early bird registration until Jan 1st, 2019
• For the preliminary program click here
• Young investigators: Top 10 things to do
• Many travel / poster awards
• Budget accommodation for young investigators
• Check the confirmed speakers
• Maastricht, a star among cities
WCM 2018 Travel Award winners
CONGRATULATIONS!
The winners of the ESM Travel Award for Young Investigators to attend 11th World Congress for Microcirculation (WCM) 2018, in Vancouver, Canada (€400.00 each) are:
Nicole A.M. Dekker MD, PhD student, Department of Anesthesiology, VU Medical Center, Amsterdam, The Netherlands
Mohamad M. Almedawar, PhD Student, Dresden International PhD Program, Institute for vascular endothelium and microcirculation, Medizinisch-Theoretisches Zentrum, Technical University of Dresden, Dresden, Germany
CONGRATULATIONS!
Akos Koller,
Secretary General, ESM.