Swiss Cardiovascular Biology Intersection On-line Meeting 2021
Dear colleagues,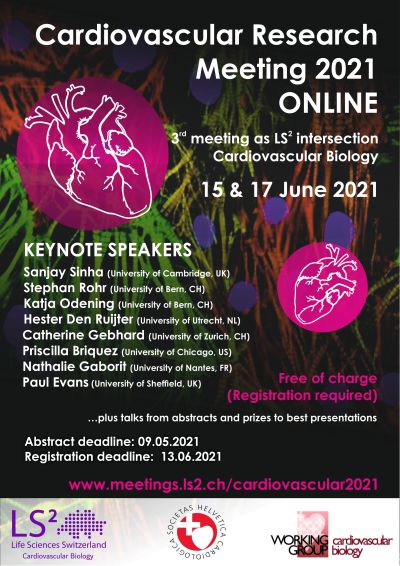 I am glad to announced the upcoming Cardiovascular Research Meeting 2021 organized by the Intersection Cardiovascular Biology of Life Sciences Switzerland (LS2).
Main facts:
The meeting will take place ONLINE on 15 and 17 June
Registration is FREE but required here
Deadline for abstract submission: 9 May 2021
General registration deadline: 13 June 2021
Program:
The meeting will take place in two afternoons.
We have an outstanding list of invited speakers divided into four sessions: Organoïds/iPCS; Cardiac Physiology; Gender Difference; Vascular Signaling/Repair/Tissue Engineering
The program will include 16 short talks selected from abstracts.
We have prizes for the best and second-best presentation.
See the full program and details on the meeting website. (Program in PDF)
We are looking forward to seeing you online.
Best regards,
Elena Osto (Vice President)
Andrea Banfi (President)
Intersection Cardiovascular Biology of Life Sciences Switzerland (LS2)