ESM Newsletter 1/2021
Dear members of the European Society for Microcirculation, dear colleagues,
Please find attached the newsletter 1-2021 to highlight ongoing and future activities of the ESM and its national societies.
We are glad to welcome new members of our ESM Strategy Committee in our team and would like to include in the next issues of our newsletter also the presentation of new members, featured labs, recent articles etc. If you would like to contribute to these new features, do not hesitate to contact us. The e-mails are on our website: www.esmicro.eu.
In addition, we would be grateful, if you could support us to establish a presence of the ESM on selected social media platforms. We suggest initially Twitter and Linkedin as platforms for our society. In this context, we would like to appoint young/young at heart Social Media Experts/Ambassadors who wish to post news from our society on a regular manner.
We would be glad, if you could send us your feedback, whether you or your young colleagues would be willing to participate and how do you would envision the presence of our society on online/social media platforms in the future.

We are looking forward to your response.
Best regards, also from the whole ESM team, and wishing you all a very Happy Easter,

Content
ESM 2021 Online Meeting, 27th May 2021


EVBO/ESM Summer School, 13-15 July 2021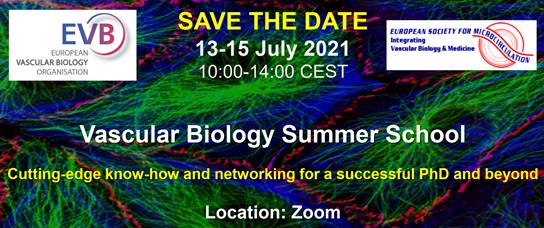 71st Annual British Microcirculation and Vascular Biology Society Conference, 15th and 16th April 2021

First Announcement for the Joint Dutch German Vascular Biology Meeting, 3-5 November 2021


Journal of Vascular Research